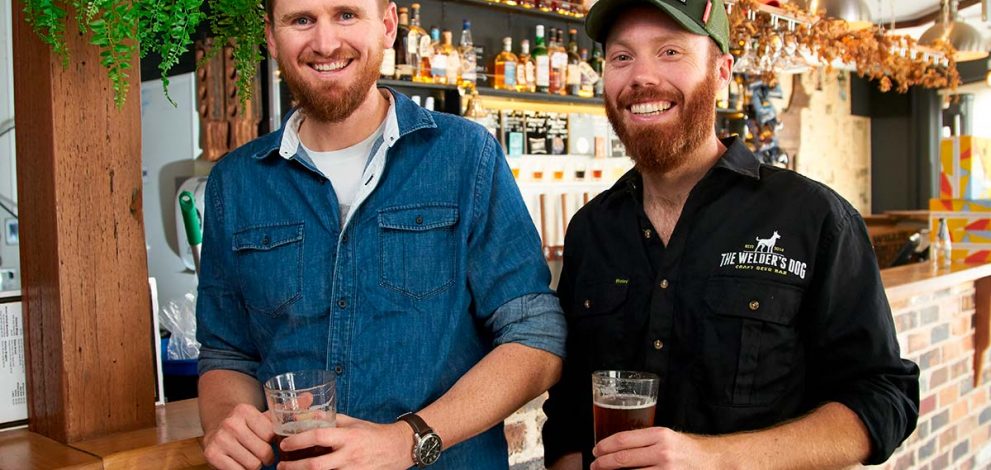 The Welder's Dog, a landmark for craft beer in the New England, are celebrating their third birthday … Which is, of course, their 21st in dog years! This little powerhouse of craft and boutique flavours has become a haunt for many and a household name to all. FOCUS chats with Tom and Dan about "The Dog".
Over the past three years, how has the Welder's Dog settled into the New England?
From originally thinking we would just be serving beer, it turned into more than that. The New England has really taken ownership of the Dog. Every customer has become a friend, and in a way we feel like a friend to the entire town!
Ever the hard workers, you decided to start the Tamworth Welder's Dog this year too?
Well, we saw that Tamworth needed something too. They needed an alternative place for people to go. We have a few friends up there and had a chat with them, and they were really keen. We probably wouldn't have done it if we hadn't found the building – once we saw it, we fell in love with it. We think it will have the personality it does here.
Tell us about some of the local products you use.
Without a doubt, Dobson's is the highest selling spirit in the bar. Whenever we have local kegs on, they always go really quickly. We've found that whether it's tourists or locals, everyone seems to support the local brews.
Farmhouse Ginger Beer?
Well, it has evolved over time. We started trying all the available ginger beers on the market and the common feedback was that, "It's nice, but it's too sweet". So, we researched if we could find a ginger beer that everybody liked and that was properly brewed. Generally speaking, a lot are carbonated sugar water or a wine sprit with flavouring. Ours has 100% natural fermentation; this gives it all those little characteristics that happen in a brew. Also, it's chockablock with fresh ginger.
Ramping up the production line is no small feat. Enter the Welder's Dog "Brew House"…
After about 18 months of research and work, talking to other brewers, importers, and brewery manufacturers, we tried to overcome any errors they may have experienced. We also weighed up if it was good to have a side business. Since we've started production, we've been welcomed in, as we aren't creating a competing drink.
So there's nothing like it on the market. Can you tell us about the recipe?
Well, Phil must be given credit; he's the technical man. Early on, we realised that we are pretty time poor. While having dabbled in some home brewing, we needed someone with a scientific background. Phil worked long and hard on the recipe. Jeez, I reckon we went through so much ginger; every time Coles got a new batch, we'd be in buying it all up.
We blew up many blenders – we borrowed Mum's blender, blew it up, among with a bunch more. We were brewing it on Phil's stove at the time, in 5 L batches. We were doing it small scale, but we still had big plans. The process is all fresh ingredients and grain derived ingredients to meet the definition of brewed beer. All handmade, no additives, flavours or preservatives. Clean and fresh.
So what's your supplying capacity now?
Well, now we have a large scale brewing capacity in the shed. But before we go too hard, we are really trying to dial in and fine tune the recipe before we get out there too much. At the moment we are struggling to keep up with demand, which is a good thing!
What would you pair this beer with?
Oysters. Seafood. Lots of Asian dishes go great with it. We've got a lady cooking pork with it this weekend at the Dog! We'll be taking it to a few festivals, in the near future. But I'd eat it with a steak, or a piece of lettuce (laughs)!
How are you guys juggling running two bars, the brew shed and all the other things that go along with that? 
We have awesome staff that we can rely on. We let them get on and do their stuff and they have really taken ownership of the place. They are the face of it. It's really not easy, so we really have to thank them. We never really meant to be starting two businesses within a six month period; it just happened like that. We have a really tight-knit crew at the moment. Even when are not working, they'll come in and have a beer!
What's next?
We are still very much in the early stages. We seem to come up with a million ideas a week, and we've had to step back and tell ourselves that they are a distraction. We are conscious that it is still early days and want to focus on getting these running smoothly. We really would love a beer garden upstairs; at the moment it isn't possible. Possibly some food? Growing a bigger team? All of these are important ideas that could be possible.
Congratulations fellas. Any final words?
Thanks for the support. Thanks for getting behind the culture, supporting live music, local business and helping us make places where the locals enjoy. Huge thanks to all the food vendors that have been involved too! As always… Drink Less, Taste More.